Limited Time & Availability
10:00
VIEW OUR WEB SPECIAL &
ACCESS OUR SCHEDULE
Secure your spot & get started today with our EXCLUSIVE online offer!
By opting into the web form above you are providing consent for Family Martial Arts to send you periodic text messages. Standard rates may apply. You can reply HELP at anytime or learn more. You may opt-out anytime by replying STOP.
A Few Words
From Chief Instructor Brian Baker
I'm Brian Baker, Chief Instructor & Self Defense Coach, here at Family Martial Arts.
As a martial arts instructor with extensive experience training kids, there is nothing better than seeing them grow firsthand.
But more important than the martial arts skills they learn… is the personal skills they develop and carry for life.
Because martial arts is so much more than just kicking and punching, and getting the next colorful belt.
It's about developing confidence, discipline, character, focus and respect.
With every class we teach, your kids are growing in mind, body and character.
That's because martial arts provides instant positive feedback. Through learning to focus on the core moves, they develop discipline and respect. They can instantly see and feel a difference, making them destined to build confidence, self-awareness and self-respect.
And of course it's a ton of FUN!
That's why I love teaching martial arts to kids in this community, and why I know your kids are going to LOVE training.
So please have a look below to find out exactly how your kids can benefit from our fun martial arts classes.
Thanks!
DOES YOUR CHILD
STRUGGLE WITH CONFIDENCE?
They tattle on others without accepting responsibility for their own actions.
They have a hard time coping with losses and setbacks and may not demonstrate good sportsmanship.
They don't remember what you or their teachers tell them and struggle with paying attention.
LUCKILY THERE IS A COMPREHENSIVE SOLUTION…
PARENTING A CHILD IS HARDER THAN YOU MIGHT EXPECT
Kids between the ages of seven and nine have done a lot of maturing, but that doesn't mean that your job as a parent is any easier than it was before – it's just different. Your child might have attained some degree of emotional control but still have a hard time reacting appropriately when disappointed or upset. Likewise, they might not be willing to accept blame when they do something wrong, and yet be very quick to point the finger at others and tattle.
Since kids this age tend to be intellectually very curious, it's important to engage them on their level and provide them with continual challenges to keep them interested in what they're doing. Martial arts instruction is ideal because of its structure of ongoing learning and measurable achievements.
YOUR CHILD WILL GROW WITH EVERY CLASS!
Our Core SKILLZ program works with kids to teach them how to accept responsibility for their actions, to manage negative emotions, and to pay attention to instructions and advice from their instructors. Our program teaches kids agility, technique, courage, flexibility, intensity, perseverance, speed, and concentration in a way that allows them to build confidence. These skills translate from our martial arts studio to school – and to your home.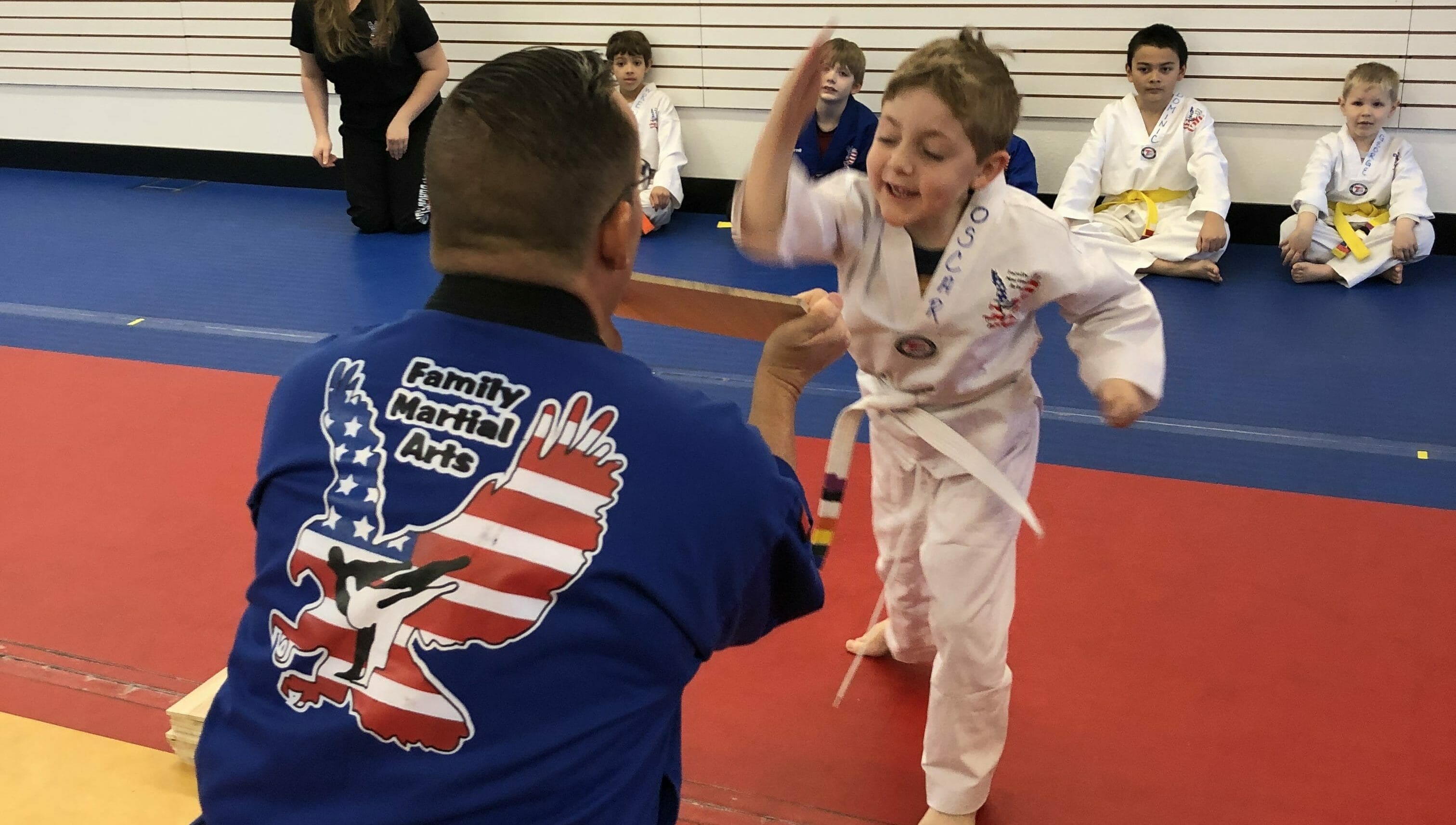 BUILD FINE MOTOR SKILLS
Older kids have better control than young ones, but they still may struggle with precision and accuracy.
The Core SKILLZ program builds on earlier martial arts training to help kids gain control of their bodies and build strength while improving their balance.
IMPROVE FOCUS
Kids are easily distracted and may have difficulty focusing on tasks and situations.
We teach kids to tune out distractions and focus on one thing at a time – something that's increasingly challenging in today's electronic world.
PERSISTANCE & DETERMINATION
Kids develop persistence and the determination to see their goals through to the end.
When they're learning a new skill, kids may be afraid or give up easily instead of risking failure.
Core SKILLZ students learn to conquer their fears and persist even when they feel like giving up on a particular challenge or assignment.
RESPECT & SELF CONTROL
Students learn how to disagree politely and to resolve disputes respectfully.
Many kids struggle with learning how to express disagreement without being rude or angry.
Our Core SKILLZ program teaches kids to speak up without disrupting others, and to figure out ways to resolve their challenges within the confines of the program's structure.
Mari Maria Marie
I am so grateful for Shelly and her husband. They work so well with my son and at a good pace that works for him. My son Anthony absolutely loves it. I appreciate all their hard work and efforts. So happy here!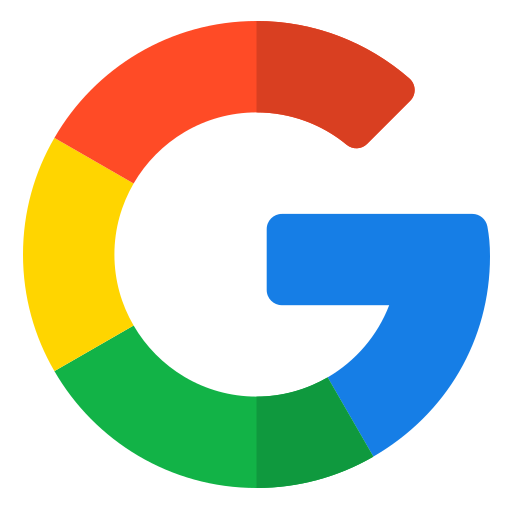 Natalee Olson
Amazing staff! My son just started and they were amazing with him. Shelley even let his sister do some moves. She was very informative.
Meagan Caddell
So blessed to have found Brian and Shelly Baker last May. Family Martial arts has helped our son in so many ways. I could tell a difference in his all around behavior just after his first one on one with Shelly.
Hailey Martinez
I looked at several different places before deciding to go with Family Martial Arts. The other programs I looked at and trialed were fun but I felt like they were just trying to get my son to have a good time so we'd pick them. At FMA, I watched Mr. Brian with the 5yo group for about 5 minutes and immediately knew we had found what we were looking for. This place was great! Mr. Brian and the team are patient and fun and engaging with the kids and at the same time have that "coach-like" feeling to them I was really looking for. The kids are having a blast while learning the basics of karate but also learning about respect and mannerisms and working on self discipline and that was really important to us in finding a good program.
Ryan DeCoteau
Such an amazing place for the kids to learn and grow ! All the people at this place have went above and beyond to teach my son and work w him so happy he is in the program here special thanks to all of you!!
Mariemagdalena Ulibarri-Chavez
My son Anthony has been attending here and he absolutely loves it. I love the individual attention and goals he has set for him by the instructor. Shelly and her husband are amazing and really gear the kids in a great direction. Highly recommend by me and my family.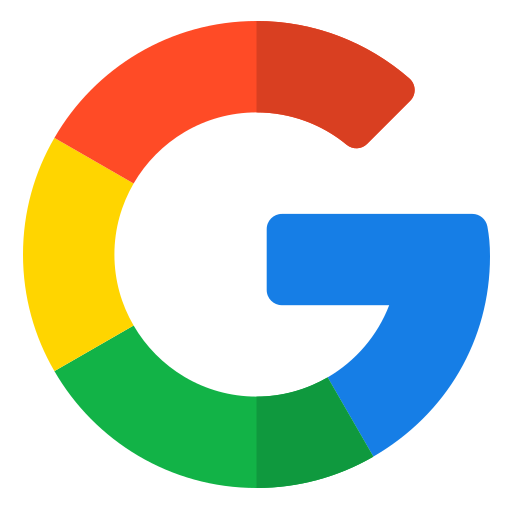 Dayna Cooper
We love Family Martial Arts! They are so patient with my student and set high expectations for the kids.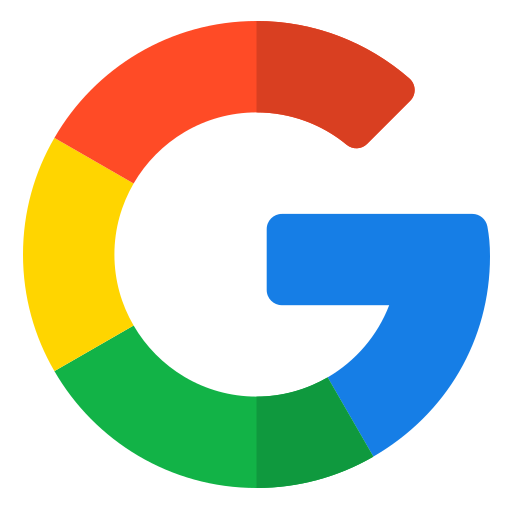 Natalee Tompkins
If I could I'd give 10 stars! As a special needs mom it has always hurt when I hear "mom I don't feel like I belong". My son has been here for 3 months and walks in and he can feel that he belongs. It's like a second family to him. As a mom, just walk in and from the whole team of coaches and owners they say hi if you have concerns they answer them. There's so much to be said about this amazing place. It's worth the money to see your kid smile and know that they are going to thrive here! Thank you to all the staff for making us apart of your family and we love you all for what you have done for us.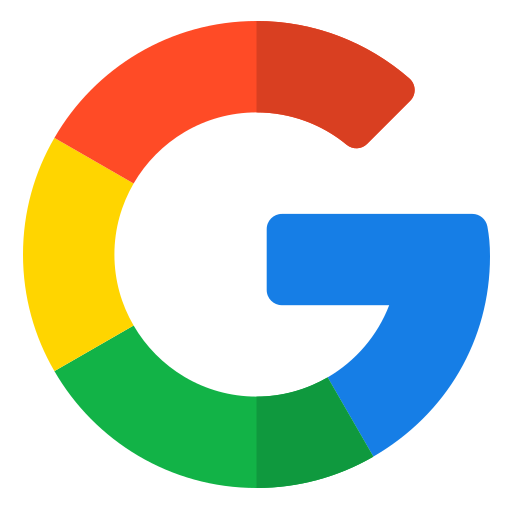 Carley Crowder
We have really enjoyed our time here.
My daughter has enjoyed all of her coaches- but the kindness and work that Coach Steve has shown her has really made an impact. He is wonderful with the kids, and always lends a helpful hand. My daughter really looks up to him.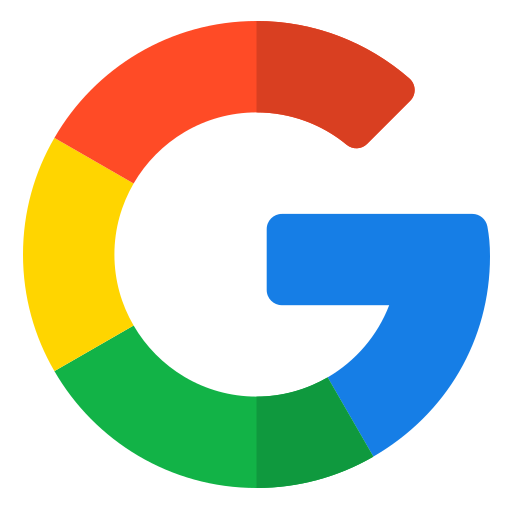 Karlie
don't typically leave reviews but these guys definitely deserve one! My kiddos really look forward to their classes each week. We started with the 4 week trial. My youngest was hooked right away and we went ahead and signed the year contract. My oldest is a little more flighty and I was so happy that they let me wait the 4 weeks with her before signing so we could be sure she wanted to stick with it. I hear almost every Friday that she can't wait for martial arts on Monday. The coaches really make them feel welcome. The atmosphere is always positive and lively. Myself and my 2 littles recommend them regularly to our friends and family.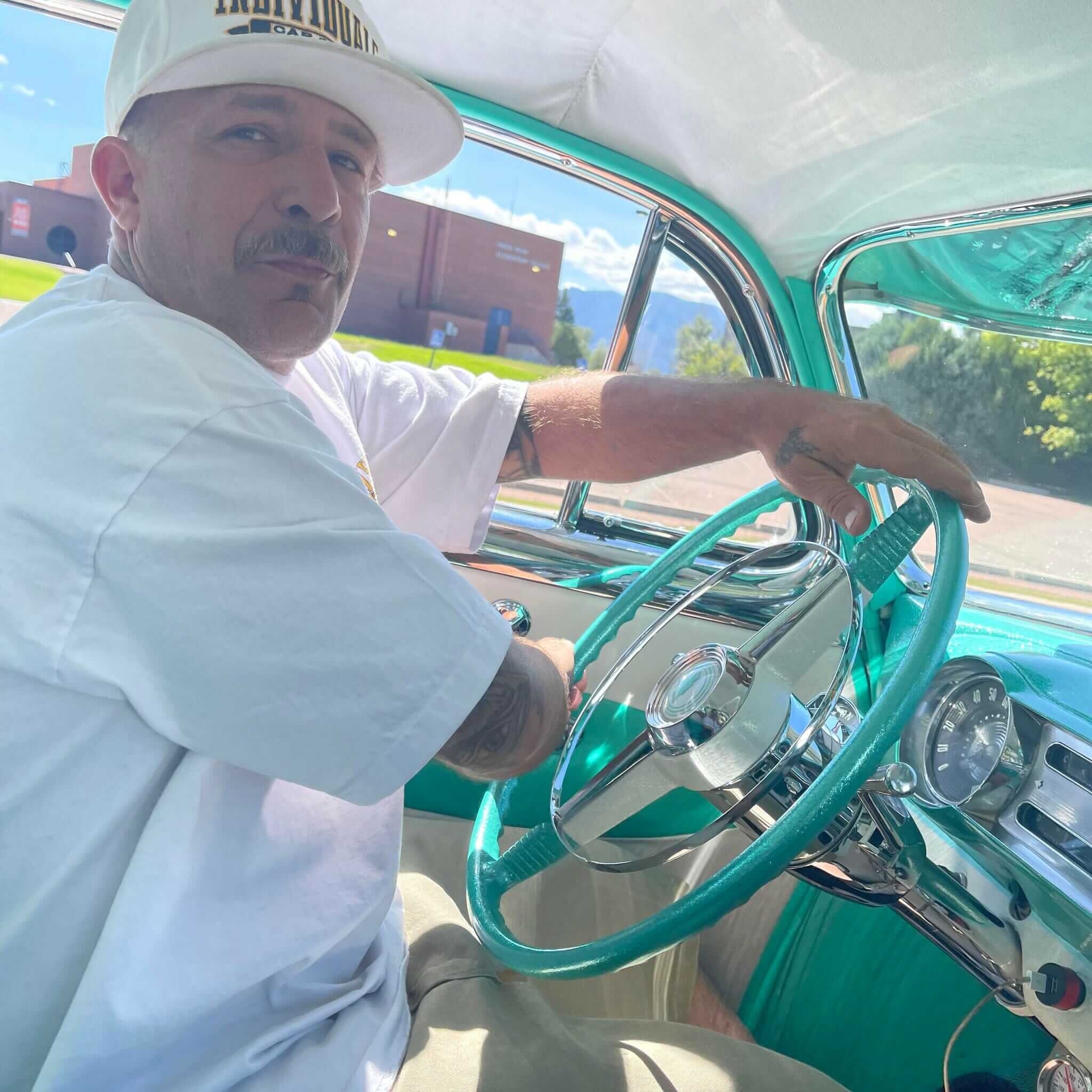 Travis Reamy
It has been great for our kids after almost 2 years, they will be here for a long time. Coach Brain and his wife shelly are amazing!
Limited Time & Availability
10:00
VIEW OUR WEB SPECIAL &
ACCESS OUR SCHEDULE
Secure your spot & get started today with our EXCLUSIVE online offer!
By opting into the web form above you are providing consent for Family Martial Arts to send you periodic text messages. Standard rates may apply. You can reply HELP at anytime or learn more. You may opt-out anytime by replying STOP.
FAQs
Will the Core SKILLZ curriculum give my child a longer attention span?
Yes. Kids in the Core SKILLZ program must pay attention to instructors and memorize moves if they wish to advance.
I'm exhausted by my child's relentless tattling and fighting with their siblings. What can the Core SKILLZ program do to help?
The Core Skillz program teaches kids that they must be accountable for their own behavior and actions. Accountability is essential our martial arts school and it's a key life skill that kids will take home with them when the class is over.
My child isn't a good sport. Will they learn how handle defeat in the Core SKILLZ program?
Yes. It's normal for kids to experience setbacks when they study martial arts. Some moves may require repeated effort to master, and the process teaches kids to handle disappointment and failure.
My child is bright but struggles to retain information they learn in school, and I'm worried about how they'll deal with increased academic demands. Can the SKILLZ program help?
Our Core SKILLZ program helps kids to build focus and improve their memorization skills. Each of the skills we teach requires kids to remember what the instructors have told them and – in some cases – to memorize a series of moves. When kids learn how to memorize information, they can use that skill anywhere they need to use it – including in the classroom.
My child thinks that life is unfair and doesn't seem to understand the advantages they have. How can this program help?
A fixation on fairness is common in kids of this age, but our program helps them understand that sometimes life isn't fair – and also, to realize that in our martial arts school, all other kids face the same challenges they do.
My child shuts down when presented with something that feels too difficult or overwhelming. What can you do to help?
Our Core SKILLZ curriculum is specifically designed with kids from ages seven to nine in mind. We want to challenge them without overwhelming them – and our instructors know how to motivate them and keep them on track. They'll learn to accept challenges, not run from them.
Will the Core SKILLZ program help my child be braver in the face of adversity?
Yes. One of the Core "SKILLZ" we teach is courage, which requires kids to dodge targets. While the targets won't hurt them, they show kids that they can face opposition and still succeed.
My child lacks physical agility and struggles to retain control of their body. Will this program help?
Yes. Kids at this age still have some issues with fine motor skills, and we know that they'll have trouble with some of the moves we teach at first. Our goal is to help them gain control and build strength and agility.
More Benefits
Improves balance and core strength by requiring kids to hold poses.
Teaches the value of persistence by teaching kids how to keep trying even when they don't get the result they want.
Helps kids build physical speed and control by introducing timed tests for certain skills.
Allows kids to express their opinions in a non-disruptive and respectful way.
Encourages kids to embrace the value of personal responsibility and accountability.
Builds concentration by requiring kids to memorize sequences of moves.
Teaches kids how to interact socially with both peers and instructors.
Kids learn the importance of respecting others and allowing them to speak without interruption.
Limited Time & Availability
10:00
VIEW OUR WEB SPECIAL &
ACCESS OUR SCHEDULE
Secure your spot & get started today with our EXCLUSIVE online offer!
By opting into the web form above you are providing consent for Family Martial Arts to send you periodic text messages. Standard rates may apply. You can reply HELP at anytime or learn more. You may opt-out anytime by replying STOP.